Building a business is hard. Growing a brand while managing day-to-day operations, keeping it profitable and still getting enough sleep? That's nearly impossible for us mortals. Some businesses, like many consumer products, now come in something like a "plug and play" solution: a franchise.
Is franchising for you?
With rewards of plug-an-play simplicity come a few down sides. Having a recognizable brand, a ready-made business plan, as well as training can help you capitalize on market demand without spending long years (and a lot of money) establishing your business and brand.
On the other hand, if you thrive on seeing your name in lights, making ALL the business decisions while remaining completely independent in your work, and you're not too keen on spending a few (more than a few) extra bucks on franchise fess then franchising may not for you, and you can probably skip the rest of this post.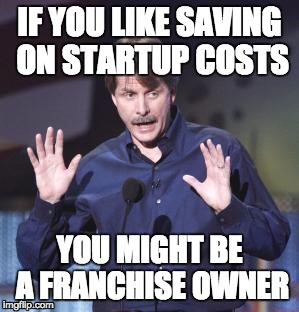 Money Talks
Before we discuss the criteria for choosing a franchise, let's talk dollars and cents. It's what makes the world go round, right?! Keep in mind, your costs don't just include the cost of business before it becomes profitable.
Franchise costs vary greatly. From just a few thousand dollars to millions in initial investment and ongoing operational costs, depending on the industry and on how complete the business "package" is. Not to mention, of course, how big and strong the brand name is.
When choosing a franchise to invest in, you need to figure out if you have the necessary funds to buy in. You might need to take out a business loan, and that's where you'll need to crunch the numbers. A lot.
But the numbers are not more important than the non-monetary investment you will be making. At the end of the day, it's up to you to decide if the time and energy you spend managing your business is worth the money you're making.
One in a thousand
Thousands of franchises are courting potential franchisees across industries and geographic locations. But how can you choose the right one? Do a lot of research. Knowledge is power.
In your quest to find the one company to join, there are a lot of questions you need to ask yourself. The first Q, in my opinion, is: "What do I WANT to do?" Yes, before asking how much money will you make out of it.
Joining a venture you believe in, or selling a product you enjoy marketing is much better than working in a business that goes against who you are. For example, if you're allergic to dogs, then mobile pet grooming services might not be the perfect field for you to join. If you're vegan, odds are you will not be opening a McDonald's in your town.
Owning a franchise can be a great opportunity to turn a hobby into a profitable business or learn a new skill you connect to.
The Good, the Bad and the Brand Name
Buying into a franchise is no simple decision, and as we pointed out above – there's a lot of number crunching and many questions to ask. Is there demand in your area for the service you want to offer? Are there other brands competing for the same target audience? How much support and training does the franchise offer?
Do your due diligence in research, or you'll end up paying for it later. In addition to in-depth Googling of the brand and corporation reviews, you want to be speaking to other franchisees working with the company. Don't forget to check if the franchise is involved in any lawsuits or has been reporting financial trouble.
The list is long, but you can start your with the
questions offered by IFA, the International Franchise Association
.
In 2016 the franchise categories that showed most growth are fast food, cleaning services, hair styling and fitness centers. This trend is going to continue is 2017, but your choice of brand should not be based just on growth percentage and popularity. Your location, available capital and the answers to the questions previously mentioned should help steer you in the right direction.
But which brands are most likely to shine in high growth categories?
10 Hot Franchise Picks for 2017
Eat It
Although the big and fat franchises like McDonald's and KCF still rule the nation, the health trend seems to be have an effect and people are moving toward sandwiches and salads rather than deep fried franchises.
Jimmy John's Gourmet Sandwiches
A franchise that's over 30 years old, and has thousands of shops across America selling fast and delicious sandwiches. And it just keeps growing. The reason is probably the extensive support and the franchise working closely with franchise owners, guiding them to success.
In 2015-6 , JJ's has had its share of bad publicity: from its owner hunting endangered animals to a woman claiming she was rendered speechless after digesting a JJ's sandwich but it still remains a very strong franchise that will likely be able to put controversy in the rear-view mirror and perhaps also learn the necessary lessons.
Subway
True, there's a Subway pretty much everywhere, but some the health trend is actually more than a trend and probably here to stay. So just imagine lines of salad hungry and whole wheat sandwich craving individuals waiting in line at your register. This 50 year-old brand with branches in over 100 countries worldwide, might just satisfy that craving.
Shake It
Another clear sign of the health trend getting stronger is the continued growth of gym and fitness franchises.
Anytime Fitness
There's no shortage of fitness franchises out there, each with their own gimmick. Anytime Fitness is a brand with worldwide presence, and a global membership, which lets customers attend the gym closest to where they may be, at home or on the road.
Dance all the way to the bank! If a traditional gym is not your thing, and you've been dreaming of "Dancing with the Stars" – this is your chance to join a franchise that offers a fun alternative to the monotony of gyms. And get the training and certification. Jazz hands!
Cut It
The beauty & cosmetics industry is also being taken over by franchises, with hair styling services leading the way.
The growth of this franchise has been fueled greatly by its efforts to get franchise owners to expand operations. So many Supercuts franchisees own more than one store, sometimes even up to five from the various brands included under Regis Corp., the owner of Supercuts.
If you like sports and quick, simple hair styles – Sport Clips is for you. One of the things they offer is a program to allow you to invest in a franchise without quitting your day job.
Clean It
Franchises in professional cleaning services for businesses and homes continue to strengthen in 2017. One of the reasons is that with so many maintenance and cleaning services out there, people seek out trusted names and brands when letting strangers with brooms into their homes or offices.
If you're not afraid to get down and dirty, Servpro is one of the fastest growing franchises in professional cleaning and disaster recovery for homes and businesses.
According to Entrepreneur.com, this franchise has been the fastest growing one in 2016 across all industries. And that's pretty impressive for a franchise with a low initial investment (starting at just $4,000 or so). Jan-Pro also offer a nice incentive for veterans to join their forces – up to 20% discount on the franchise fee.
Home and Away
For the elderly population, nursing homes are often the least favorable option. Like cleaning services, when letting a stranger into your home, trust is even a big issue here. Even more so since they'll be taking care of a elderly relative. Naturally, this drives customers into the hands of familiar brands.
According to Forbes, Right at Home is bound to continue growing at least 14 percent over the next five years. Although the initial investment is pretty high, the company recommends a minimum of $150,000 in liquid assets, h
otel and hosting services are still a growing franchise industry and this brand name is particularly strong in growth and size. People still like to travel and take vacations, and rather do so at a place with a familiar name, or even better – a frequent guest club.
If the hotel business is for you, then you should consider Hampton – a growing hotel chain with serious expansion plans in the US and beyond.
Franchise Away
If you've given this blog post a quick once over and got to here then you may have missed a recurring theme. In industries where trust is an issue (and where is it not) franchises flurish. Customers like knowing what to expect for their money and, especially when it really counts, will prefer to play it safe. This is where the strength of a franchise brand can really come in handy. In fact, as long as you're not doing business with competing franchises, you might end up owning several branches of different brands. And 2017 is the perfect time to do it.
Marketing
Eyal Katz